Codata Factsheet – Bordeaux
Each month, Codata selects a city centre that has been recently studied by our team. Vacancy rate, Retailers' occupancy rate and sector-specific evolution…we provide you with the essential data collected.
Last August, our data-collectors travelled to Bordeaux to study the shopping streets and the five shopping centres that are located within its perimeter.
This year, Cours Pasteur and the extension of previously studied streets, such as Cours Victor Hugo or Rue Duffour-Dubergier, were added to our route.
Commercial sites in the city centre:
Shopping streets
Les Grands Hommes
Mériadeck
Mériadeck : Les Passages
Promenade Sainte-Catherine
Saint-Christoly
For the second consecutive year, the vacancy rate decreased in Bordeaux: 6.1% in 2022 vs 6.3% in 2021.
Retailers' occupancy rate dropped once again, to 34.2% in 2022 from 34.9% in 2021. It is the most significant decline since 2018.
In the city centre, activities such as "Café-Hotel-Restaurant" (526 shops), "Clothing" (371 shops) and "Services" (273 shops) occupy most of the commercial locations. Despite an increase from 236 occupied shops to 258 shops between 2021 and 2022, "Perfumes-Beauty-Body care" falls back to fourth place in the ranking.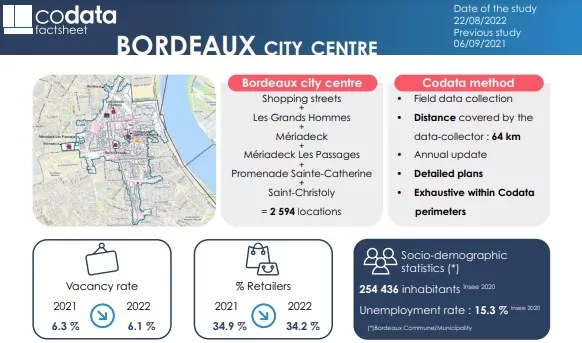 Contact us now, a consultant will come back to you as soon as possible to define your needs.