Retail observatory
Have access to an exclusive Retail observatory in France, Belgium and Luxembourg!
All commercial sites are annually studied by our team and are accurately geo-referenced, positioned and mapped.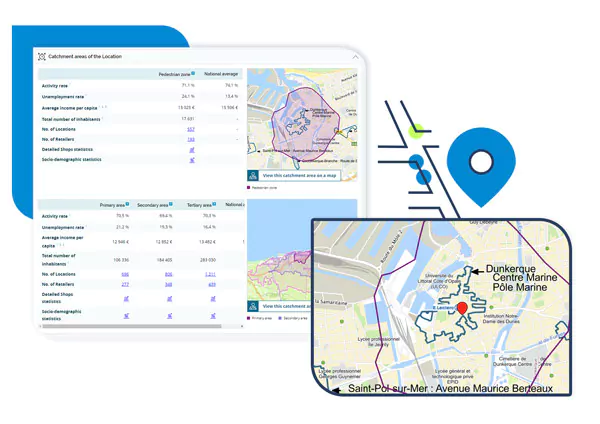 Commercial site
According to Codata, a commercial site generally meets the following requirements
Our database continues to expand year after year and includes more than 4,700 commercial sites!
The site is located in an agglomeration of at least 25,000 inhabitants
The total sales area reaches at least 10,000 sq m by site
The site counts at least 25 shops including at least one medium-sized shop (2,500 sq m and more)
Features of a commercial site
The listed sites in Codata database are:
precisely georeferenced and positioned. Thus, a client can accurately import data into his own geographic information system GIS
accurately mapped, at the level of cadastral parcels
Attributes of Codata commercial sites
the name of the site according to Codata own denomination
the geographical position: urban area, periurban area, outlying area
the type of site: shopping street, retail area, shopping centre, outlet centre, train station – airport and retail park
the number of present shops and the number of present retailers
the presence of one or several projects and their type
the distribution by activity of retail locations, with a distinction between shops and retailers
vacancy and occupancy rates of shops
detailed shops statistics
detailed socio-demographic statistics
Supplementary attributes
commercial area
the name of the manager
l'identité du commercialisateur
the name of the leasing manager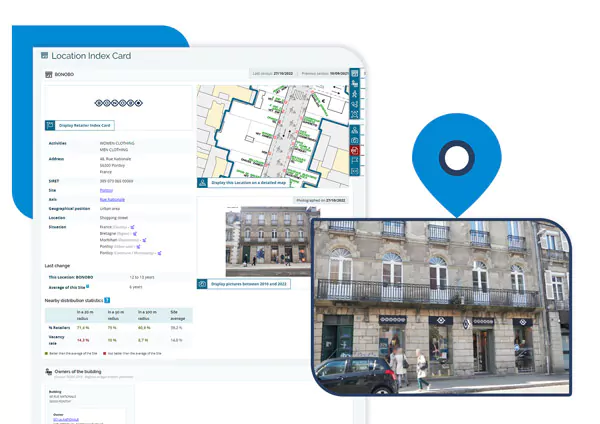 Retail location
Find the best retail location among 380,000 locations listed in the Codata database!
A Retail Location corresponds to a location that might be occupied by a shop. Thus, the Retail Location can be occupied by a shop or not; it can also be used as a house or for non-commercial purposes (a monument, for instance). As for the shop, it may be of different kinds: retail shop, wholesale shop, restaurant, agency…
Features of a retail location
precisely georeferenced and positioned. Thus, a client can accurately import data into his own geographic information system GIS
linked to the official administrative units of the territory to which they belong (country, region/Land/autonomous community/disctrict, province/department/canton/district, district/urban unit, commune/municipality)
linked to the perimeters defined by Codata in the form of commercial cluster, commercial site or commercial axis
Attributes of a Codata location
dates of information collection
the name of the shop that occupies the location
the precise address of the location
the activity(ies) of the shop according to a consistent list of Codata activities for the ten listed countries
the shop belongs or does not belong to a regional, national or international network (retailer)
the change of identity of the occupier since the last census
the XY coordinates allowing to accurately position this retail location in the cartographic interface