News | Brugge (BE) city centre
In October 2022, Codata listed 861 locations in the city centre of Brugge and in its shopping center "Zilverpand".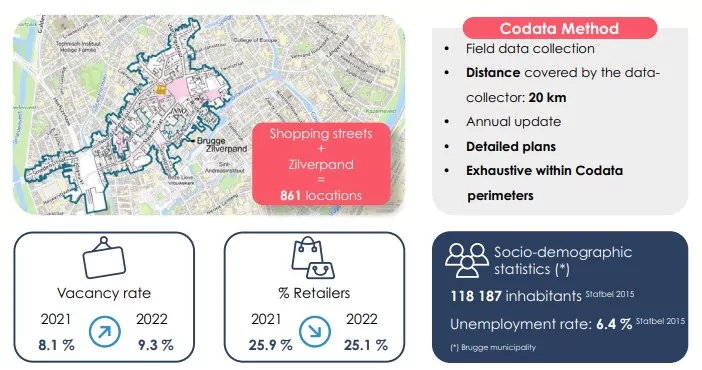 Continuing the trend initiated in 2020, commercial vacancy increased from 8.1% to 9.3% between 2021 and 2022. Despite this considerable increase, the vacancy rate remains below the national average of 15.5% (2021).
The retailer occupancy rate continues to decline: 25.1% in 2022 vs 25.9% in 2021.
The restaurant and hotel sector (Café-Hotel-Restaurant) largely dominates the commercial offer in Brugge with 254 occupied locations. This represents more than double the number of locations occupied by the "Clothing" sector, whis is the second most important activity in the city centre (119 occupied locations).
Apart from these two sectors, no other activity occupies more than 100 locations in the city centre.
Contact us now, a consultant will come back to you as soon as possible to define your needs