News : City centre of Aix-en-Provence
Including the Shopping Street and two Shopping centres : Les Allées and Passage Agard, the city centre of Aix-en-Provence includes 1349 locations of which 1137 are shops.
Between June 2020 and March 2021, the vacancy rate continued to increase and went from 6.7% to 7.5%.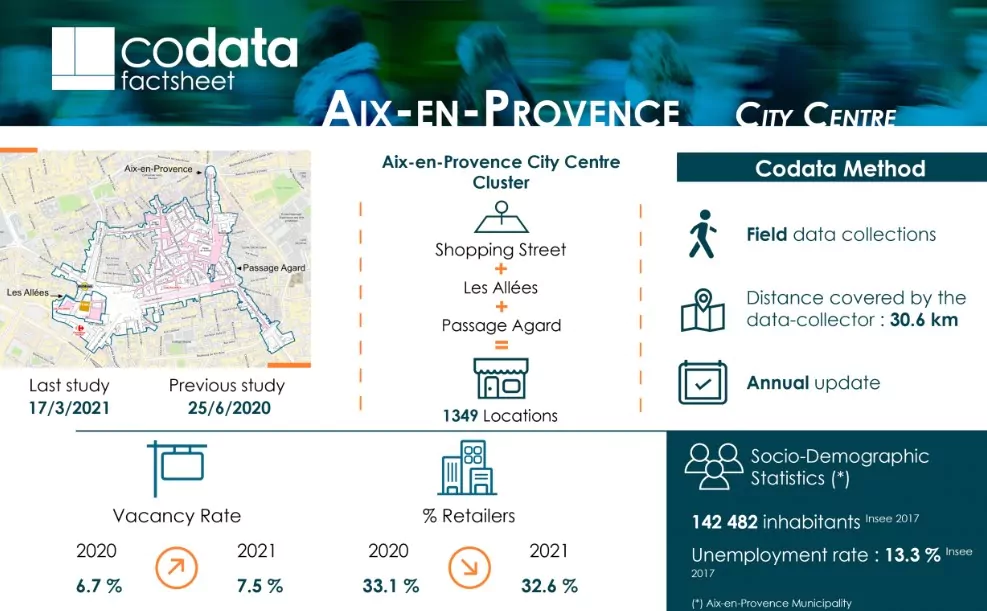 Codata has listed 1072 shops in the shopping streets with a Retailers occupancy rate of 31,1%.
The Cours Mirabeau (74 shops), Rue des Cordeliers (61 shops) and Rue Espariat (52 shops) are the axis with the most shops in the city centre.
The occupancy rate of the Retailers is nevertheless variable : 44.6%, 16.4% and 40.4% respectively.
The shopping centre Les Allées (50 shops) has a high concentration of Retailers (Fnac, H&M, Monoprix, Zara) since they represent 68% of the shops.
As for the second shopping centre of the city, Passage Agard, 4 shops out of 15 are occupied by Retailers.
Overall, the Retailers occupancy rate in the city centre of Aix-en-Provence is 32.6% in 2021 (compared to 33.1% in 2020).
Contact us now, a consultant will come back to you as soon as possible to define your needs.