News : City centre of Nîmes
Studied in March 2021, the city centre of Nîmes includes 1024 commercial locations (of which 860 are shops) situated in the Shopping Streets and the shopping centre Coupole des Halles.
Decrease in the vacancy rate
Between June 2020 (date of the previous study) and March 2021, the vacancy rate went down : from 15.2% to 14.2%.This positive trend is confirmed both in the Shopping Street and in the shopping centre :
Shopping Street (982 commercial locations) : 13.03% in 2021 compared to 13.94% in 2020
Coupole des Halles (42 commercial locations) : 40.48% in 2021 compared to 44.19% in 2020
Altough the graph below shows an uninterrupted increase in the vacancy rate in the city centres*, the vacancy rate in Nîmes has fluctuated between increase and decline since 2017.
Top 3 of the most represented activities
With 178 shops, the activity "Café – Hotel – Restaurant" represents 20.7% of the shops in the city centre.
In second place, the "Clothing" category counts 160 locations with an 18.6% occupancy rate. In the shopping centre, the activity ranks first and represents 20% of the shops (including 16% of Retailers).
Finally, the activity "Perfumes – Beauty – Body care", with 14.5%, completes the Top 3.
Top 5 expanding activities
With 11 new shops, the activity "Perfumes – Beauty – Body care" ranks first in this Top 5.
The categories "Services" and "Food" come next and share the second place with 10 new shops each between 2020 and 2021.
With the categories "Clothing" and "Café – Hotel – Restaurant", the Top 5 is complete.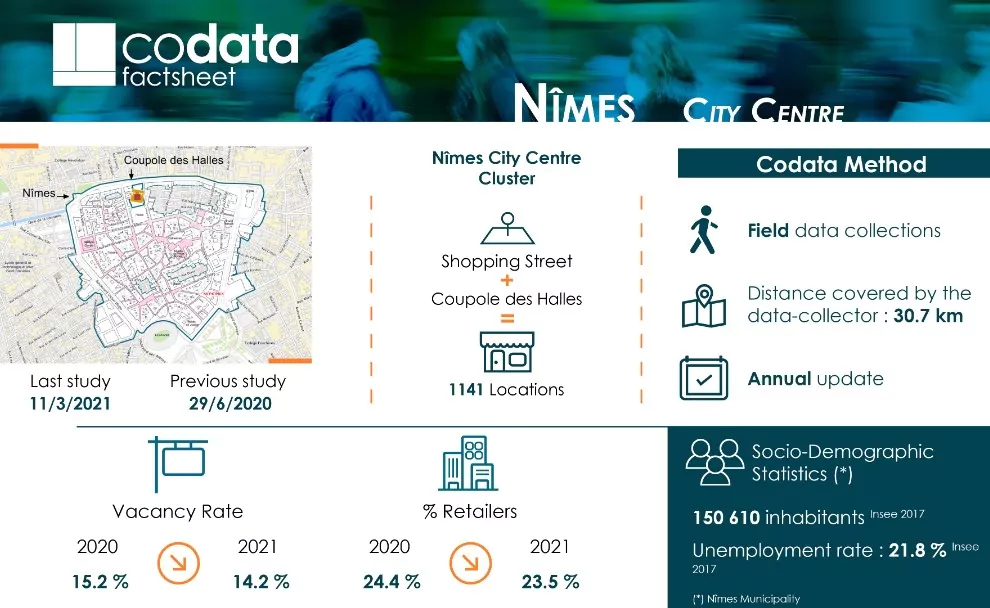 *National average based on all the city centres clusters within the Codata perimeters in France.
Contact us now, a consultant will come back to you as soon as possible to define your needs.