News : City Centre of Saint-Étienne
The city centre of Saint-Étienne includes 632 shops within the Codata Perimeters. These shops are located in the following commercial Sites : Saint-Étienne Shopping Street and the Shopping centre Dorian.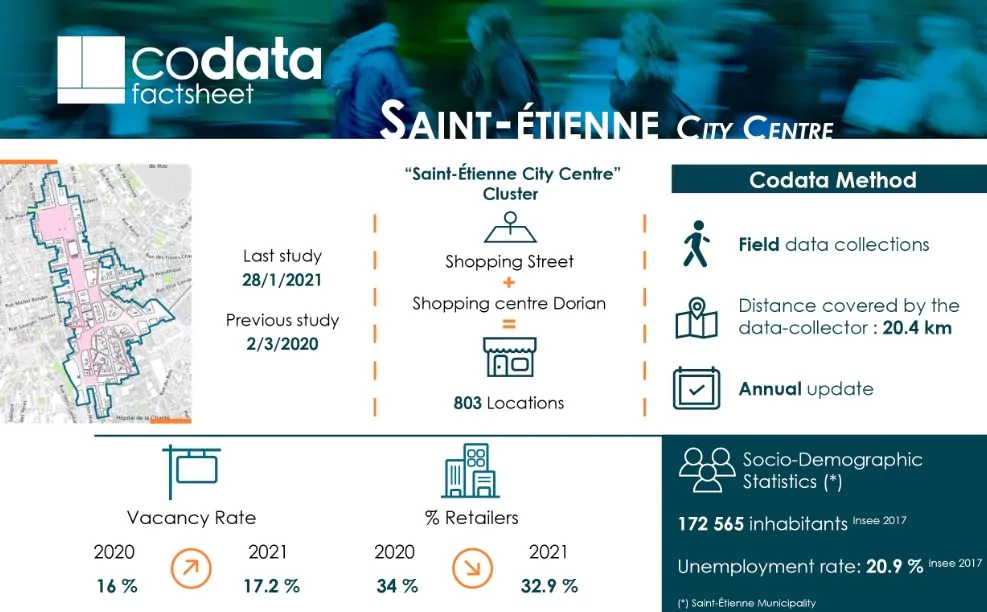 Here is an overview of a few significant trends :
Significant trends by sectors of activity
By increasing from 138 to 146 shops, the "Clothing" activity progressed even though it was in decline since 2017.
During the same period of time, the "Beauty" activity made the most significant increase : 95 shops in 2021. There were 85 in 2017 (in 2020, the number came up to 91).
As for the distribution of activities, the "Clothing" activity represents 23.1% of the shops and ranks first in 2021. While the activity "Beauty" keeps its third place with 15%.
Increase in the vacancy rate
The vacancy rate rose from 16% to 17.2% between 2020 and 2021.
Occupancy rate of the Retailers
Among the 632 shops listed in 2021, 208 are occupied by Retailers for an occupancy rate of 32.9%.
Contact us now, a consultant will come back to you as soon as possible to define your needs.