News : Clermont-Ferrand City centre
There are two Sites in the centre of Clermont-Ferrand: shopping streets and the shopping centre "Centre Jaude". Codata data-collectors carried out field censuses in Clermont-Ferrand on the 1st of February.
Within these perimeters, the number of Locations goes up to 974. Among those, 840 are located in the shopping streets while the remaining 134 are situated in the shopping centre.
With a 7.2% rate in 2021, the vacancy rate in the city centre had been already below the national average (10.2%). It lowered even more and went below the 5% mark.
In 2022, the recorded vacancy rate is 4.9% in the whole cluster. The vacancy rate in shopping centres is even lower with a 4.5% rate, that is to say a 2.5 pp decrease from the previous year.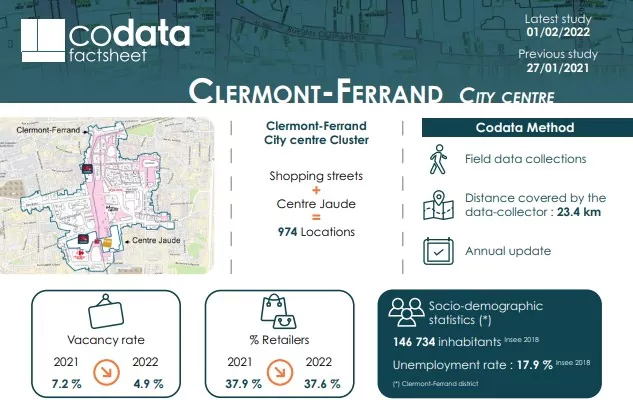 Retailers occupy 30.7% of the shopping streets shops (+ 0.4 pp compared with last year). Their occupancy rate is much higher in "Centre Jaude" where they occupy 79.8% of the shops.
Retailers' total occupancy rate has reached 37.6% in 2022, i.e., a slight decrease compared with the 37.9% rate of 2021.
In terms of activities that have the highest occupancy rate "Café-Hotel-Restaurant" ranks first as it occupies 21.8% of the shops in Clermont-Ferrand, i.e., more than a fifth of the commercial offer. "Clothing" represents 20% and "Perfumes-Beauty-Body care" occupies 13.8% of the shops.
Contact us now, a consultant will come back to you as soon as possible to define your needs