Codata Factsheet – Tours
Distributed between the shopping streets and the shopping centres Passage du Palais and Galerie Nationale, there are 1,020 shops included in the city centre of Tours (study date: 14/9/2021).
With 7.1 % in 2020, the vacancy rate was relatively low in the city centre already. It continued to lower in 2021 by going down to 5.9 %.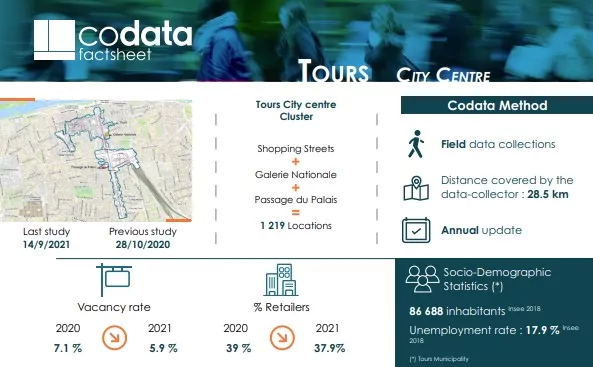 In contrast, the Retailers occupancy rate dropped from 39.0 % in 2020 to 37.9 % in 2021. This situation has not occurred since 2015, as the rate has been increasing year by year since then.
With the exception of the activities "Footwear – Leather goods" and "Gifts – Jewellery", which lost two and one shops respectively, and "Hypermarket", which remained unchanged, all activities have improved between 2020 and 2021.
Notably, there are five additional shops for the "Clothing" activity. Despite the difficulties encountered by this sector, accentuated by the Covid-19 crisis, this is the first increase since 2012.
After an uninterrupted decline in the number of shops since 2018, the activity "Services" achieved the most significant growth in 2021: 41 new shops are added to the 142 listed in 2020, bringing the total of shops to 183.
These enabled the activity to climb to second place among the most represented activities in the city centre, just behind "Café – Hotel – Restaurant" (219 locations). "Clothing" has fallen back to third place.
The growth of the activity "Perfumes – Beauty – Body care" also deserves to be highlighted: 23 new locations (from 108 in 2020 to 131 in 2021).
Contact us now, a consultant will come back to you as soon as possible to define your needs.