News : City centre of Liège
Listed last April, the Liège City Centre cluster is the subject of this first Codata Factsheet covering Belgium.
The city centre consists of 1 172 locations, of which 833 are shops.
In addition to the Shopping Street Site, there are three Shopping centres : Galeries Saint-Lambert (36 locations), Ilot Shopping (26 locations) and Passage Lemonnier (30 locations).
Evolution of the vacancy rate
In 2021, the vacancy rate rose to 21.9%. This is a further increase in the steady rise in the vacancy rate that started in 2018.
In comparison, the previous vacancy rate was 18.6% while the national average vacancy rate (calculated on all Belgian city centres) was 14.4% in 2020.
However, there has been a decrease in the vacancy rate of Ilot Shopping (2021 : 22.7% – 2020 : 37.5%) and Passage Lemonnier (2021 : 26.7% – 2020 : 30%).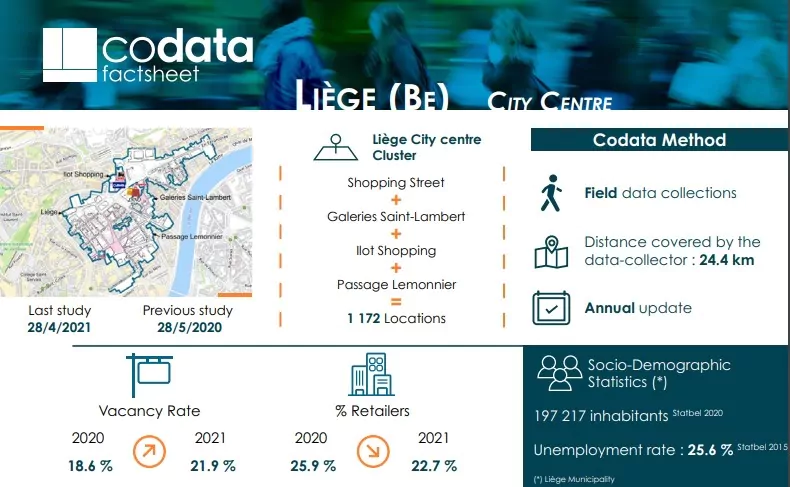 Retailers distribution
Among the 833 shops, 189 are occupied by Retailers ; it represents a 22.7% occupancy rate. Comparing to the 25.9% rate registered in May 2020, the Retailers' occupancy has decreased in the city centre.
The Shopping centres Galeries Saint-Lambert and Ilot Shopping are favoured by Retailers as they represent 76.9% and 64.7% of the tenants respectively.
As far as the openings between the last two field censuses are concerned, only 6 of them were made by Retailers.
French Retailer Cultura is one of the newcomers with the opening of its first store in Belgium (situated in Ilot Shopping, opened in September 2020).
Contact us now, a consultant will come back to you as soon as possible to define your needs.