News : City Centre of Strasbourg
Including the following Commercial Sites : the Shopping streets of Strasbourg, La Maison Rouge (Shopping centre), Les Boutiques de l'Aubette (Shopping centre), Place des Halles (Shopping centre), and the Strasbourg train station, the city centre includes 1273 shops.
The Codata perimeter of Strasbourg City centre was extended between 2017 and 2018.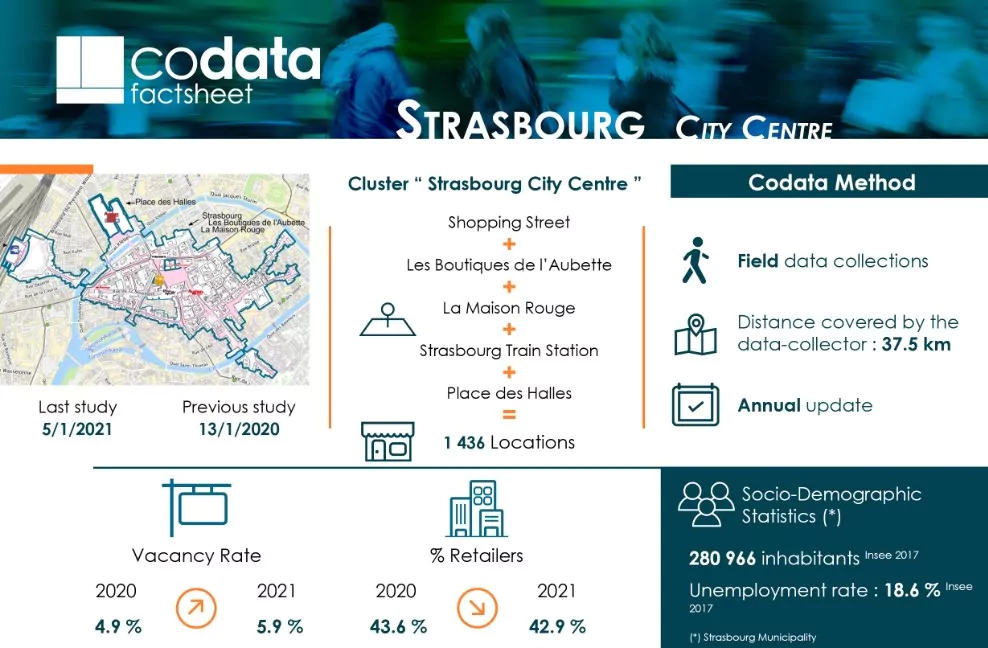 Here is an overview of a few significant trends :
Activities : increase for the "Perfumes – Beauty – Body care" sector and decrease for the "Clothing" sector
Between 2018 and 2021, the category "Perfumes – Beauty – Body care" registered the highest growth in terms of number of shops. This activity increased from 129 to 147 shops.
Conversely, the category "Clothing" registered the highest decrease in the number of shops with a loss of 33 shops during the same period of time. In 2021, the number of shops comes to 227 (the registered loss between 2020 and 2021 comes to 20 shops).
Despite being on the decline, the "Clothing" category represents 17.8% of the shops located in the city centre. A second place since the first one is occupied by the category "Café-Hotel-Restaurant" (20.8%). The activity "Food", which represents 15.2% of the shops, completes the top three. As for the category "Perfumes – Beauty – Body care", it comes in fourth place with 11.5%.
Vacancy rate : new increase
A 1 percentage point increase made the vacancy rate rose from 4.9% to 5.9% between 2020 et 2021 despite a 0.6 percentage point decrease registered between 2019 and 2020.
Retailers : Occupancy rate and openings
With a 0.7 percentage point decrease, the Retailers occupancy rate decreased from 43.6% to 42.9% between 2020 and 2021.
Despite a decline in the occupancy rate, 24 openings were made by the Retailers in the centre of Strasbourg, including the arrival of the American restaurant chain Five Guys.
The Retailers represent 24 openings of the 83 registered in 2021.
Contact us now, a consultant will come back to you as soon as possible to define your needs.