News : City centre of Toulouse
Listed last March by the Codata data-collectors, 2 162 locations are situated in the city centre of Toulouse.
Among those, 1 834 shops are located in the Shopping Street Site and 19 are in Les Boutiques Saint Georges Shopping centre.
Retailers occupy 600 of these 1 853 shops with an occupancy rate of 32.4%.
With 586 locations, Retailers represent 32% of the shops in the Shopping Street. The 14 remaining Retailers are situated in the Shopping centre with an occupancy rate of 73.7%.
Progression of the vacancy rate
In 2021, the vacancy rate reached 8.1% and is higher than the 7.8% rate registered in 2020. However, this augmentation remains relatively moderate.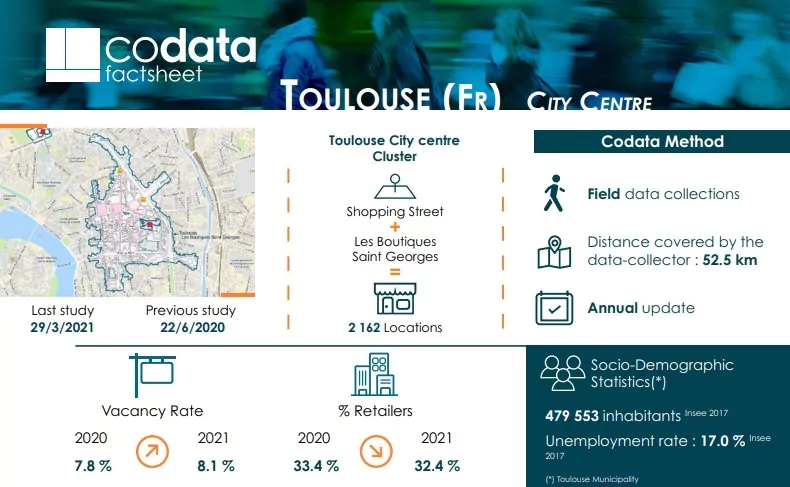 Top 3 of Activities
Based on the number of commercial locations occupied in 2021, the Top 3 of Activities in the city centre is formed by "Clothing", "Café-Hotel-Restaurant" and "Services".
Clothing : 360 shops (including 166 Retailers)
Café-Hotel-Restaurant : 355 Shops (including 41 Retailers)
Services : 268 shops (including 112 Retailers)
All three combined, these activities total 963 occupied locations. In other words, that is slightly more than half of all the shops in Toulouse City centre.
The equivalent in percentage of this distribution is shown in the graph below.
Contact us now, a consultant will come back to you as soon as possible to define your needs.